About Five Points Media
Five Points Media is a community-oriented and locally focused broadcast-quality online media service that offers a non-judgemental social voice to those who are all too often ignored by mainstream news services.
Those groups include but are not limited to:
Charities
Not-for-profit benevolent individuals and groups
Grassroots community organizations
Women's rights advocates
The LGBTQ community
The poor, homeless, and disenfranchised
The disabled and the infirmed
Ethnic and cultural groups
Those dedicated to helping others
Most social enterprises
Five Points Media fills a gap that exists within mainstream commercial media, which is limited in its ability to serve charities, benevolent groups, and the various special needs components of our society
We are a division of 3B Solutions; a commercial video production company that brings the experience of a widely diversified 30 year history in international journalism and documentary production. However, Five Points Media is community-oriented and through it we provide production crew and equipment free of charge or at a heavily subsidized cost to local charities and qualifying not-for-profit groups. In order to be able to provide those donated services, we also offer dramatically reduced rates to other vetted charities, and to selected benevolent organizations and community-oriented groups that charge for their services or which receive government funding. Please review our policies listed at the bottom of this page.
Since 2016 and consistently throughout into 2020, our team has been identified by "Three Best Rated" as "Best Videographers in Barrie".
Our producer, John Ironside, believes strongly in the value of a social conscience, and that all people have a responsibility to help each other. As such, through 3B Solutions he extended the offer of assistance to charities and benevolent organizations. The response was massive, and the demand became so overwhelming that John created Five Points Media to answer the call. Essentially, we were helping so many charities and community groups that the 3B Solutions brand as a commercial video production company was becoming confused.
John Ironside, Videographer / Producer / Director
John Ironside is the owner of Five Points Media and 3B Solutions. During the past 25-plus years, John has worked in media both on the international level and closer to home. In addition to having worked in virtually every form of media, including print, video, photography, and digital, John has also taught media related subjects at community and private colleges across Canada.
As the producer of socially poignant documentaries for Five Points Media, John tells the stories of people who live amazing lives or who contribute greatly to our society. John's abilities as a storyteller have been honed by experience in journalism and documentary production.
Know More
In addition to having extensive experience in broadcast and corporate video production, John has worked as a photojournalist and then Deputy Editor of a national European newspaper, and as news camera and photographer in places like Bosnia and the Middle East. John's experience in documentary production ranges from the Ontario Ministry of Natural Resources to Greenpeace in Europe, and his hundreds of commercial credits cover the full range of business, from Fortune 500 corporations to local family-run proprietorships.
John is the father of two special needs children, who have inspired him to donate his time and resources to various charities and benevolent organizations. Their personal stories and battles are also the catalyst of his desire to launch FACINATE Films, a community-oriented that is intended to help "Families Assisting Special Children In Navigating Available Treatment Everywhere".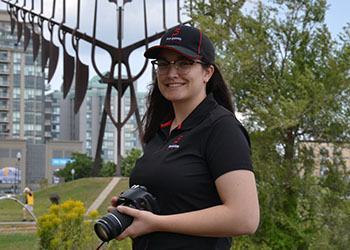 Tiffany Scott, Photographer / Voice and On-Screen Talent / Crew
Tiffany Scott has grown with us since 2016 to become a very capable videographer and photographer. She has lived most of her life in Barrie, and as a Millenial, her perspective on local stories is very different than that of her mentor. Tiffany has always had an interest in film and media, which lead her to study media. She graduate from of a two year television and broadcasting program with a Specialist High Skills Major in Arts and Culture.
As Tiffany's skillset has grown, so has her range. She has produced several videos virtually on her own and will soon be spearheading bigger projects under the banner of Five Points Media. During the past seven years, Tiffany has worked in various capacities in theatre, both in acting and in production. Tiffany works with Five Points Media as our Associate Producer, working on location at shoots and in the studio.
We use only the latest technology and tools of communications to produce full-broadcast quality HD videos
The beneficiaries of our services have ranged from individual philanthropists to international organizations, and have included but are not limited to:
Our work has been used by various broadcasters, including the Barrie CTV station and their counterpart in Toronto. Our commercial production credits range from small local businesses to international fortune 500 companies, and the charities we have assisted cover the full-range from infant care, through to women's rights, and even bikers raising money for Autism.
Please take a look through the list of charities we have helped selecting the "Recent Videos" button on the header bar